PB Valley Estate the largest vineyard in Khao Yai has introduced professional guided Wine Tasting Tours to promote the Khao Yai Wine Region as a new local and international tourist destination in Thailand.
Red wine grapes like Shiraz, Tempranillo, Cabernet Sauvignon and white wine grapes like Chenin Blanc and Colombard are the main varieties at the estate which are growing once a year only during the cool and dry season thus pruning is at the end of September beginning of October and the harvest starts about 150 to 160 days later by end of January until about middle of March. However fresh Table Grapes, seedless Maroon originally from Australia are growing all year around in a protected area of the estate and the guided tour of the vineyards will lead visitors to this area for a perfect picture stop but sorry no picking of grapes is allowed.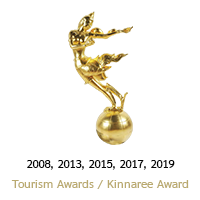 Guided tour of the vineyards with explanation about the various wine grapes in the estate. The tour also includes other fruit orchards such as dragon fruit, passion fruit and others as this is a point of interest to many visitors A tour of the Winery including a wine tasting at the wine tasting and education center is next. 3 wines are being served  "PB Khao Yai Reserve Rose 2023 | PB Khao Yai Reserve Chenin Blanc 2022  and PB Khao Yai Reserve Shiraz 2015″
The tour is conducted 4-times daily
at 09:30 am, 11:00 am,  01:30 pm,
and 03:00 pm.
New Schedules as of November 1st, 2023.
09:15 am, 11:15 am, 1:15 pm and 3:00 pm
The tour takes about 70 minutes
Children aged under 12 years:  300 THB net
Children under 4 years:  Free of charge
Rates are valid until October 31st. 2024
Remark
Advance bookings are strongly recommended

Children and young adults under the legal drinking age will be served with 100% fresh grape Juice, a produce of PB Valley Estate!
Reservations must be made not less than 72 hours before your planned visit.
A confirmation email will be sent to you during office hours only.
For last minute reservations please call Tel: +66 (0) 81 733 8783 or +66 (0) 85 481 1741
For wine tour reservations please inform: