PB Valley Estate is located Valley 150 km's northeast of Bangkok a comfortable drive of less than two hours from Bangkok Metropolis on a 6 lane highway.
PB Valley Estate is situated on the edge of the Khao Yai National Park and is the birthplace of the Khao Yai wine region. PB Valley Estate and the Khao Yai region can be visited all year around as this mountainous region northeast of Bangkok is always a few degrees cooler than Bangkok. But similar to all of Thailand the best tie for travelers is November to March which is he dry or so called winter season.
Wine Tasting Tours section
Harvesting of wine grapes is from end of January to the middle of March each year but table (fresh) grapes are grown and harvested all year around.
More Detail
One of the very first large scale and high professional wineries in the tropical country was established since 1989. The vineyard settles beautifully on a valley over 2,500 rais (400 hectares / 1,000 acres), 350 to 380 maters above the sea level, guaranteeing a well-condition climate. The winery is spread out over 3,000 square mater, including a Barrique room housing genuine oak barrels made in France, each holding 255 liters. A total of 150,000 liters of wine, or the equivalent yields of 200,000 bottles, are natured there to mature every year. State- of – the – art technology and equipment is provided, of cause but it is the expertise, creativity and dedicatetion of our Germany and New Zealand – trained winemakers who create the difference to produce superb wine grown in tropics.
OUR VINEYARDS AND THE NEW FLOWER PARK
"CSR – Big Cleaning Activity"
October 8th, 2022
PB Valley Khao Yai, led by the Technician Team support the community by using the tractor to cleaning-up around the flooded area at the local spillway, Noan-Kra-Doan sub district
8 ตุลาคม 2565 ไร่องุ่นพีบี วัลเล่ย์ เขาใหญ่ นำโดยฝ่ายช่างได้นำรถไถขนาดใหญ่และเครื่องมือช่าง ลงพื้นที่เพื่อทำกิจกรรมจิตอาสา Big Cleaning บริเวณฝายน้ำล้น บ้านโนนกระโดน หลังจากช่วงที่ผ่านมามีน้ำป่าหลากพัดพาดินโคลนทำให้เส้นทางสัญจรในชุมชนค่อนข้างลื่นและอาจเกิดอุบัติเหตุได้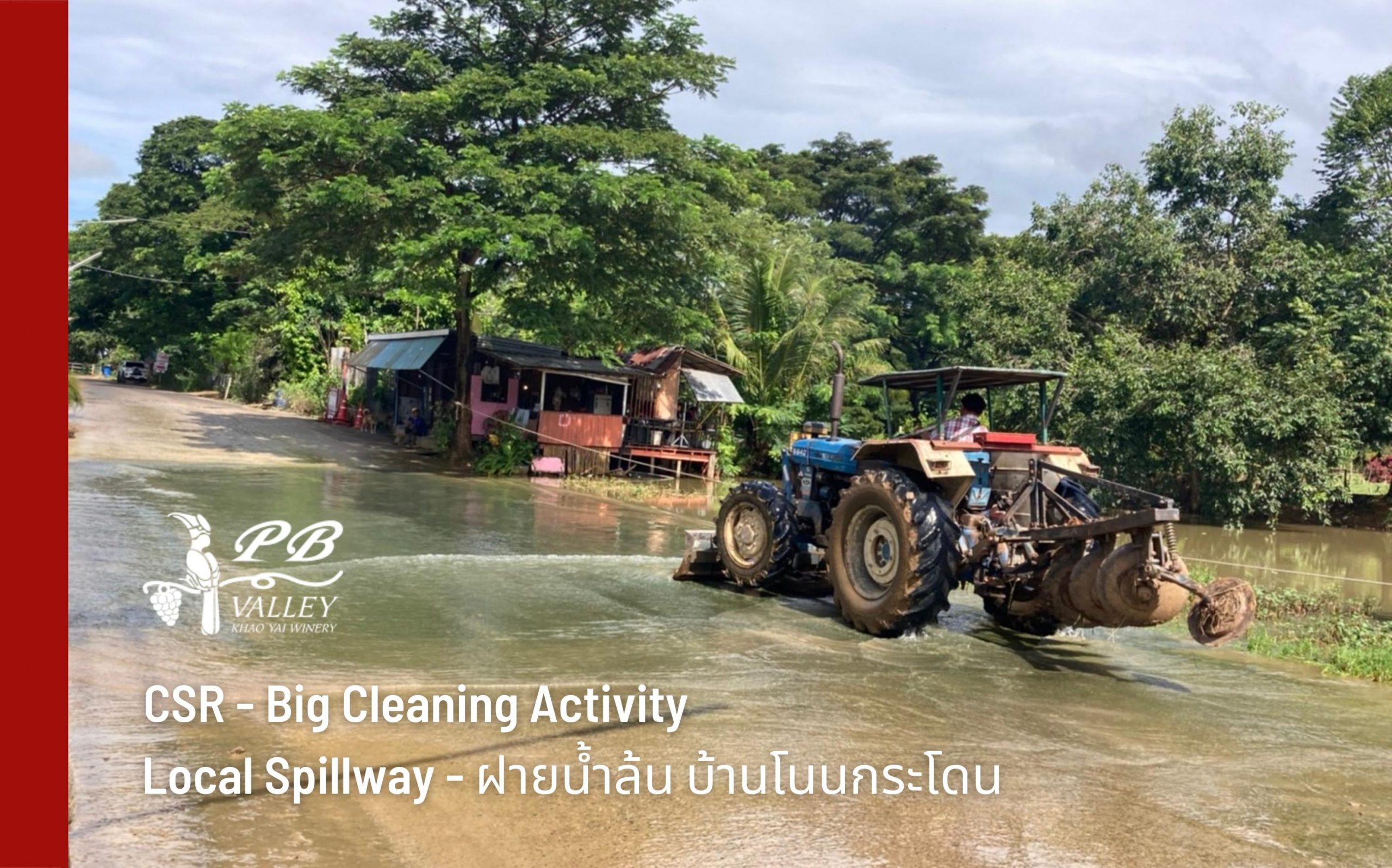 PB Valley Khao Yai
Open to visitors daily
Address:  102 Moo 5, Phaya Yen, Pak Chong Nakorn Ratchasima 30320 / Thailand
Tel:  +66 81 733 8783, +66 85 481 1741
Email: rsvn@pbvalley.com, hospitality@pbvalley.com
Line Official: @pbvalleykhaoyai
Bangkok Reservation Office
Address:  59/3 Soi Sukhumvit 39, Sukhumvit Road, Klongton Nua, Wattana, Bangkok 10110 / Thailand
Tel:  +66 81 733 8783, +66 85 481 1741
For inquiries please fill form