SAVE THE DATES
Let's picking
the fresh Marroo Seedless Grape

at PB Valley Khao Yai!

📢📢 Fully booked for Sep & Nov, there will be some available on Dec 30th – Jan 5th, 2023!!!
** Limited Slots Only **
.
Grab your ticket now!

𝐄𝐧𝐣𝐨𝐲 𝐏𝐁 𝐕𝐚𝐥𝐥𝐞𝐲 𝐆𝐫𝐚𝐩𝐞 𝐏𝐢𝐜𝐤𝐢𝐧𝐠 𝐀𝐜𝐭𝐢𝐯𝐢𝐭𝐢𝐞𝐬!
𝐎𝐧𝐞 𝐩𝐫𝐢𝐜𝐞 𝐨𝐧𝐥𝐲…𝟐𝟎𝟎𝐁𝐚𝐡𝐭/ 𝐩𝐞𝐫𝐬𝐨𝐧! 𝐰𝐡𝐢𝐜𝐡 𝐜𝐚𝐧 𝐩𝐢𝐜𝐤 𝐡𝐨𝐦𝐞 𝐚 𝐡𝐚𝐥𝐟 𝐨𝐟 𝐤𝐠. (𝐭𝐡𝐢𝐬 𝐩𝐚𝐜𝐤𝐚𝐠𝐞 𝐧𝐨𝐭 𝐢𝐧𝐜𝐥𝐮𝐝𝐞 𝐰𝐢𝐧𝐞𝐫𝐲 𝐭𝐨𝐮𝐫 & 𝐰𝐢𝐧𝐞 𝐭𝐚𝐬𝐭𝐢𝐧𝐠)
𝐁𝐞 𝐬𝐮𝐫𝐞 𝐭𝐨 𝐛𝐨𝐨𝐤 𝐚 𝐬𝐞𝐚𝐭 𝐝𝐢𝐫𝐞𝐜𝐭 𝐚𝐭 @𝐩𝐛𝐯𝐚𝐥𝐥𝐞𝐲𝐤𝐡𝐚𝐨𝐲𝐚𝐢 (Line messenger ID) 𝐨𝐫 𝟎𝟖𝟏 𝟕𝟑𝟑 𝟖𝟕𝟖𝟑 𝐨𝐫 𝟎𝟖𝟓 𝟒𝟖𝟏 𝟏𝟕𝟒𝟏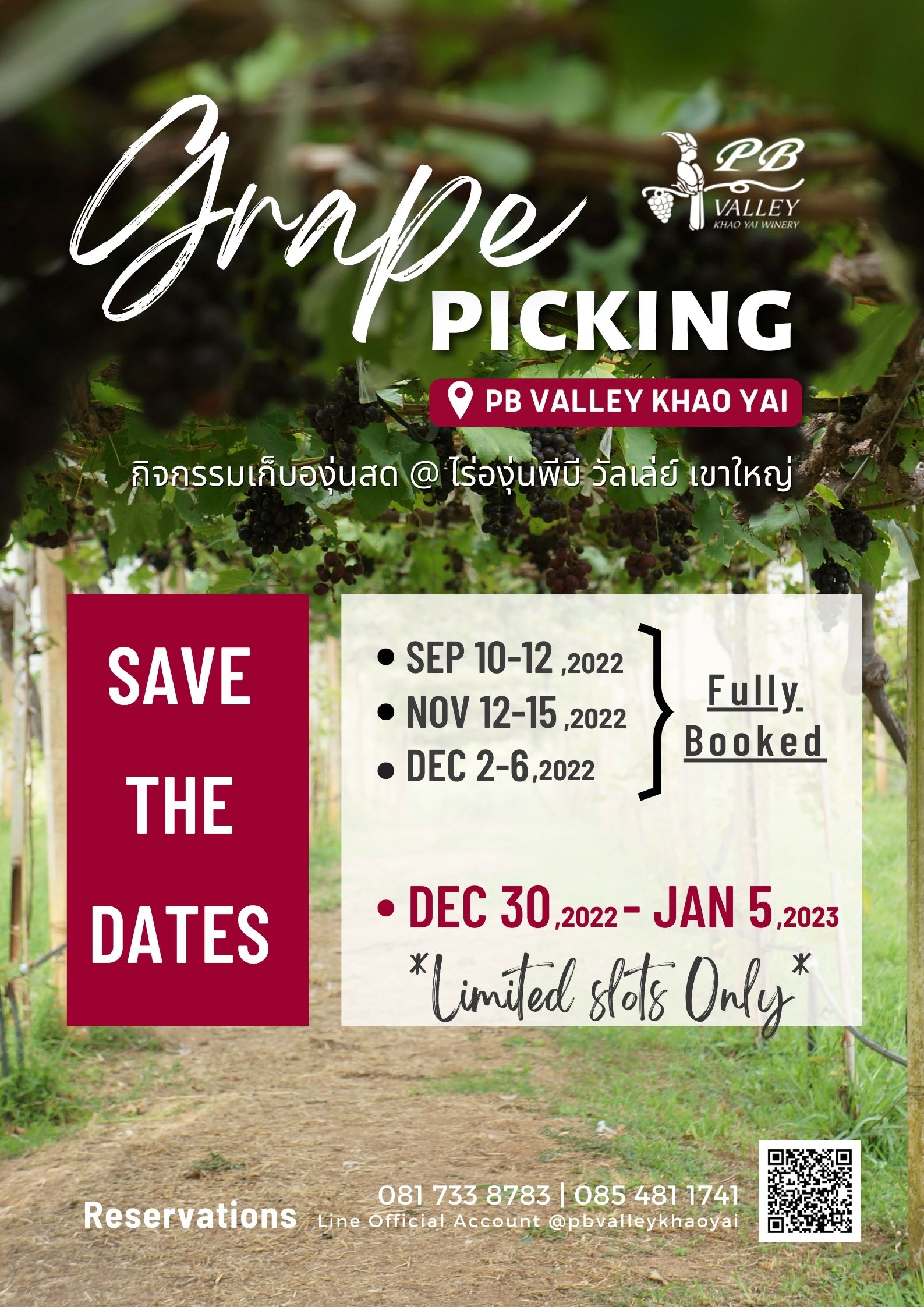 รับจำนวนจำกัดต่อรอบนะคะ 
(06/09/65) รอบเดือนกันยายน – พฤศจิกายน และรอบต้นเดือนธันวาคม 65 เต็มแล้วนะคะ
รอบปลายเดือนธันวาคม ยังพอมีว่างแต่ไม่เยอะน๊าาา…
สนุกกับกิจกรรมตัดองุ่น ได้องุ่นสดหวานกรอบกลับบ้านแถมได้รูปชิคๆ กลับไปทุกคนแน่นอน!!
>> ตั๋วราคา 𝟐𝟎𝟎 บาท/ ท่าน สามารถเก็บองุ่นได้ครึ่งกิโลกรัมต่อท่าน
จองกิจกรรม >> แอดไลน์ 𝐋𝐢𝐧𝐞 𝐈𝐃: @𝐩𝐛𝐯𝐚𝐥𝐥𝐞𝐲𝐤𝐡𝐚𝐨𝐲𝐚𝐢 โทร 𝟎𝟖𝟏 𝟕𝟑𝟑 𝟖𝟕𝟖𝟑 , 𝟎𝟖𝟓 𝟒𝟖𝟏 𝟏𝟕𝟒𝟏
>> ทัวร์ให้บริการวันละ 𝟒 รอบ 𝟎𝟗.𝟑𝟎, 𝟏𝟏.𝟎𝟎, 𝟏𝟑.𝟑𝟎 และ 𝟏𝟓.𝟎𝟎 ลูกค้าสามารถเลือกรอบและทำการจองช่วงเวลาที่สะดวกได้ค่ะ
** เฉพาะการจองล่วงหน้าเท่านั้น **
แพคเกจนี้เฉพาะการตัดองุ่นเท่านั้น ไม่รวมการชมโรงบ่มไวน์และชิมไวน์นะคะ
//
—
สอบถามข้อมูลเพิ่มเติมโทรหาเรานะคะ | More info >> 081 733 8783 , 085 481 1741
 แอดไลน์ | or text us via Line id : @pbvalleykhaoyai
 การเดินทาง | Map >> 
https://bit.ly/PBValley_Khaoyai
 เมนูอาหาร | Menu >> 
https://bit.ly/PBvalley_menu
 ข้อมูลการบริการอื่นๆ คลิกที่ลิ้งค์นี้ได้เลยค่ะ | More Information about our product & service >> 
https://linktr.ee/pbvalley