พิซซ่าหน้าปลาแอนโชวี่
อีกหนึ่งเมนูเด็ดที่ครองใจสายอิตาเลี่ยนพิซซ่า กลมกล่อมลงตัวกับซอสสูตรพิเศษของเรา ยิ่งสั่งคู่กับสลัดอีกซักจานพร้อมจิบเครื่องดื่มสุดโปรด ยิ่งทำให้มื้อนี้ของคุณพิเศษกว่าที่เคย
Pizza Napoli (Anchovy pizza) is a classic Italian dish that's elegantly simple and perfect with a simple salad and a glass of wine.
v
พิซซ่าหน้าพาร์มาแฮม..อบด้วยเตาถ่านหอมกรุ่นด้วยไม้ลิ้นจี่ สายพิซซ่าไม่ควรพลาด!! พิซซ่าแป้งบาง ขอบกรอบ หน้าแน่นจุกๆ สไตล์อิตาเลี่ยน พร้อมเสิร์ฟแล้วค่ะ
"Matteo Pizza (Parma ham pizza)" This is one of our favorite pizza!! A delicious recipe for a crunchy homemade pizza topped with parma ham. Italy on your plate!
…………
⛱🍹ซัมเมอร์นี้ มาดับร้อนไปกับเครื่องดื่มสุดพิเศษ 'Lamoon @PB' เสน่ห์ของไวน์ขาวที่ผสมผสานกันอย่างลงตัวกับน้ำผลไม้ทรอปิคอล! มาสดชื่นไปกับเราได้ทุกวันตลอดซัมเมอร์นี้ ที่ร้านอาหารเดอะเกรท ฮอร์นบิล – ไร่องุ่น พีบี วัลเล่ย์ เขาใหญ่ค่ะ
⛱🍹 When it's summer, there's nothing better than a refreshing summer cocktail which is the perfect way to stay cool.
Let summer drink season begin with our 'Lamoon @PB, the name 'Lamoon' evokes honesty and charisma, a beautiful combination of Tropical Fruity and White Wine!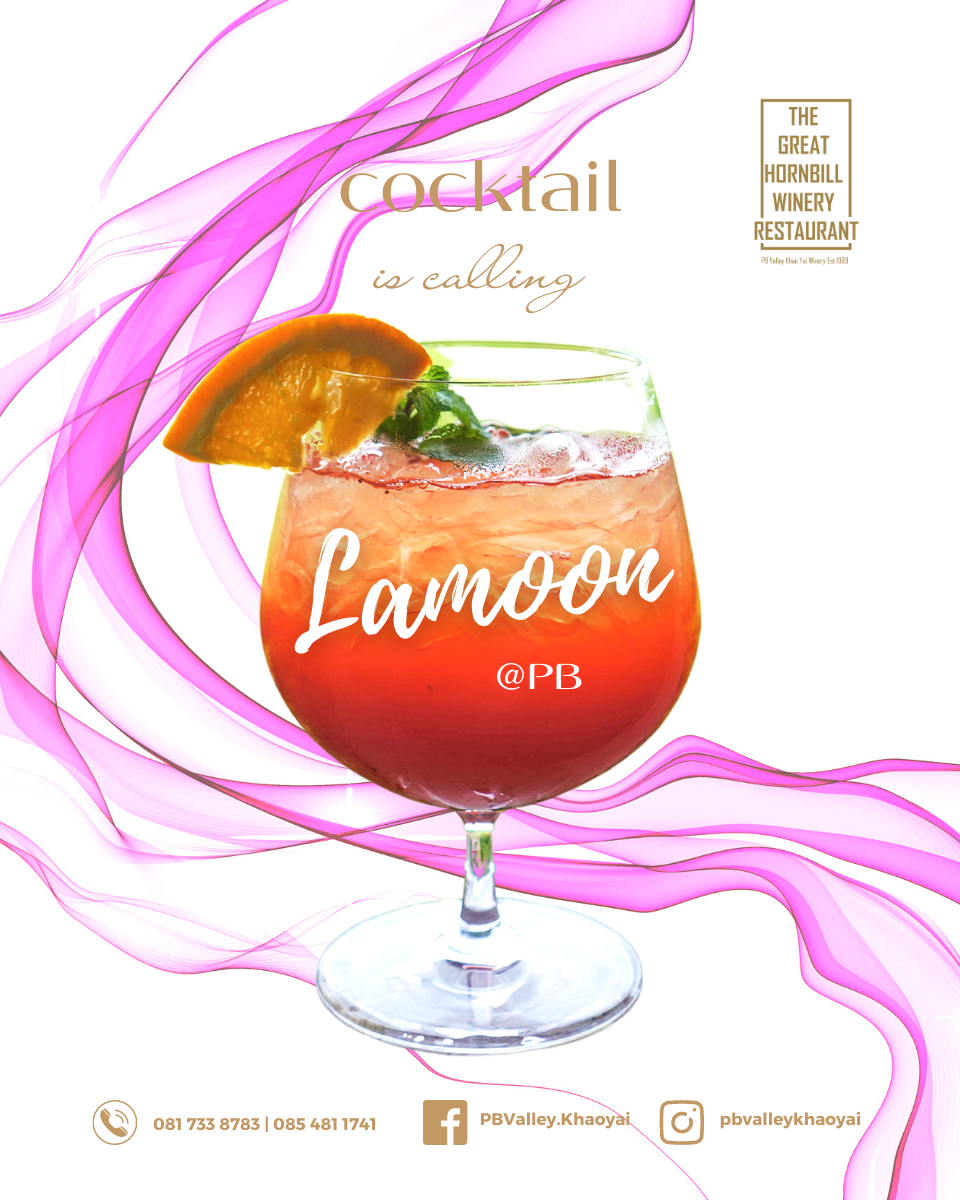 Now available at The Great Hornbill Winery Restaurant – PB Valley Khao Yai
Reservation/ Food delivery service – please call 081-733 8783 , 085-481 1741
แอดไลน์ | or text us via Line id : @pbvalleykhaoyai
การเดินทาง | Map >>
https://bit.ly/PBValley_Khaoyai
เมนูอาหาร | Menu >>
https://bit.ly/PBvalley_menu